If webcam is not working, try to switch to http mode instead of https.

Webcam provided by PROFI-NET - Full Internet and Data Solutions: >>
In 2019, the nestlings in Vavrišov did not survive the May cooling and snowfall.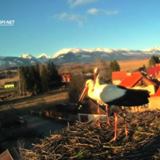 Storks in the nest on March 22, 2019.
Storks story 2016 - a rarity (July 27, 2016)
We got 5 nestlings this year. This is very rare.
By Anonym.

Flight radar provides live map of flights over the webcam's region. Click to see current flights: >>
MORE WEBCAMS