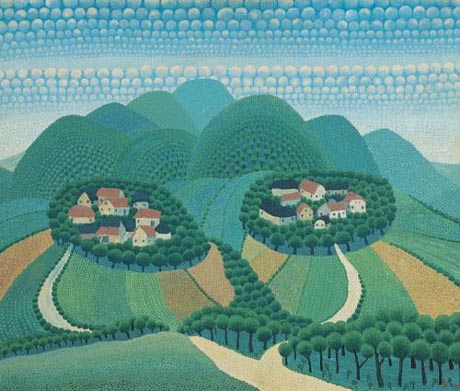 While naive artists have adopted the narrative or illustrative approach to the picture, the protagonists of Art Brut and Outsider Art are more concerned with the exploration of their inner resources, manifesting themselves in a spontaneous, automated, generally unpredictable way.
Essentially, needle art is a female skill. As an introduction, the exhibition presents delicate bead painting from the period of Romanticism by Sophie Berger (France) from 1828.
More than a century later, Rosina Baumgartner – Bäbler (Switzerland) began to embroider pictures of animals, flowers, or landscapes of the Glarn Alps, displaying her sense of beauty and colour. The patchwork of 31 framed pictures by Emma Widmer – Gass (Switzerland) resembles a huge photo album with a large mystical scene.
The stiff and almost medieval embroidered portraits by Milica Zarić (Serbia) have a child-like appeal. Elementary mosaic pictures by Elisabeth Allen (Great Britain) illustrate literary, Biblical or profane subjects.
Poetical scenes by Petronele Gerlikiene (Lithuania) celebrate nature. Dubbed "the Henri Rousseau of tapestry", Jacques Trovic (France) also belongs to the family of nadve poets. His art displays spontaneous and joyous compositions of carnivals and celebrations in the coalmining region of Northern France.
Adam Nidzgorski (France), a former yoga and sports teacher, created ten large-scale nadve fabric drawings with faces featuring big, terrified eyes. Helga Sophia Goetze (Germany), a gifted member of the Otto Muehl's commune in the seventies and a famous street figure in Berlin, made over three hundred symbolic, brilliant tapestries criticising
society and teaching her new morals in favour of universal love. The subjects of minute hand-sized embroideries by Ray Materson (USA) are masterpieces of European painting, old photographs and prison life.
While the motifs of the embroideries by Ullakaisa Kaarlela (Finland) and György Kricsfalussy (Hungary) as well as Pya Hug (Switzerland) are narrative, the world of Danielle Jacqui (France) is non narrative. Her tapestries in semi relief feature clownish faces scattered in the chaos of inscriptions and colours.
Dolls and three-dimensional fabric objects are a common feature of Outsider Art and Art Brut. The exhibition presents hermaphrodite monster dolls by Miguel Amate (Spain) and roughly stitched objects by Michel Nedjar (France).
Ardelle Cornell, an African-American woman, created tiny baby dolls made obsessively with patches of grey military blankets.
Marie-Rose Lortet developed a unique technique of "thread architectures".