Along Danube River - guidebook on cycling - Wien - Bratislava - Budapest

Popri Dunaji - Along Danube river: Wien - Bratislava - Budapest. Cycling guidebook describes cycling tours along the Danube River. In the Slovak language only.
More information: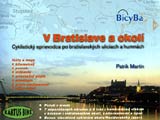 V Bratislave a okoli - Cyklisticky sprievodca po bratislavskych uliciach a humnach

Map of cykling routes at the beginning of Gabcikovo dam close to Bratislava.

There is the Along the Danube River videocasette with the same contents. 62 minutes, VHS PAL, Color HiHi Stereo. Languages: Slovak, or Hungarian.
Published: 2003-05-07
Updated: 2003-05-07
Categories: Trips, walks - Cycling