Bratislava City Museum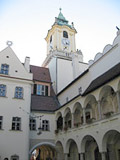 The Bratislava City Museum, established in 1868, chronicles the history of Bratislava. Its collections, of exceptional artistic and historical value, document the history of the town from the earliest periods by means of archaeological artefacts and findings, its heritage of rich artisanal activities and industry, viticulture, the history of pharmacy, cultural and social life, ethnographic collections as well as numismatics. The focus of the museum is also represented in its individual exhibitions. Bratislava City Museum website: >>

Museum of the City History
This chronicles the history of the city from the mediaeval period up to the 20th century. The separate sections are devoted to the history of artisanal crafts and trade, coronations of the emperors of the Hungarian Empire, science, technical innovation and social life in the town, sacred art, the life-style of the aristocracy and burghers, the stirrings of national revival as well as the development of industry in the second half of the 19th and beginning of the 20th centuries. It is located in the complex of the Old Town Hall buildings with a former town prison and in a part of Apponyi Palace. Part of the exhibition is devoted to interiors preserved in their original state. In the cellar, prison cells with a display of feudal justice and the collection of archaeological artefacts deriving from these premises are to be found. The Old Town Hall - Stara radnica, Primacialne namestie square No 3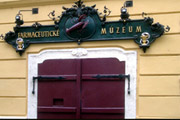 Museum of Pharmacy - Red Crayfish Pharmacy The Museum of Pharmacy is housed in a part of a former pharmacy called the Red Crayfish on the ground-floor of a Baroque burgher's house built within the barbican of St. Michael's Gate adjacent to the moat. The pharmaceutical collection containing 8,500 items and 2,880 volumes of ancient pharmaceutical literature is one of the largest of its kind and is unique in Slovakia. It contains original items of pharmaceutical equipment, the oldest originating from the 16th century. The Baroque and Classicist furniture and most of the faience, stoneware, glass, wooden and tin vessels for preserving medicines were made in Slovakia. The surviving literature documents the expertise of pharmacists who strove to acquire the latest knowledge and achievements in pharmacy. The literature from the 16th century includes an original edition of works by Paracelsus from 1574. The first quadri-lingual tariff of medicines entitled "Taxa pharmaceutica posoniensis", published in 1745 in Bratislava, which was valid throughout the Hungarian Kingdom, is prized as an example of the earliest Slovak pharmaceutical terminology. Michalska St. 26

Museum Of Viticulture - The Apponyi Palace Bratislava and its immediate surroundings form the largest wine growing region in Slovakia. The exhibition presents a review of it's history, from Roman times until the beginning of industrial production. The Apponyi Palace, (next to the Old Town Hall) Radnicna St. 1
Period Rooms Museum - The Apponyi Palace The first and second floors of the Apponyi palace are dedicated to a presentation of period interiors. The first floor is done like a representative piano nobile. On the second floor an instalation is planned of Bratislava city period interior from the end of the 18th to the end of the 19th century. The interiors are complemented by reproductions of historical clothing. The Apponyi Palace, (next to the Old Town Hall) Radnicna St. 1

Museum of Arms and City Fortification - St Michael's Tower
In the rooms of the only preserved tower of the medieval city fortification arms and other exhibits document the skill of Bratislava's molders and gunsmiths. There is a nice view of the city from the tower gallery. Michalska St. 24

Johann Nepomuk Hummel Museum Exhibition on the life and work of the composer J. N. Hummel (1770 - 1837) in a Renaissance garden house. Collection of music instruments from his estate, his death- mask , some sheets of music with his compositions. Klobucnicka St. 2

Museum of Historic Clocks - House At the Good Shepherd
Clocks from the 17th - 20th centuries, most of them signed by town's clockmakers. The beautiful Rococo house ((760 - 1765) is one of the few preserved buildings below the castle. Zidovska St. 1

Museum of Literature - House of the Writer Janko Jesensky The museum presents the literary works of Janko Jesensky (1874 - 1945) and Jozef Gregor-Tajovsky (1874 - 1940). It is accommodated in a villa from 1920s where Jesensky lived at the end of his life. Some rooms still have their original furnishing. For a visit call in advance Bratislava City Museum. Somolickeho St. 2

Arthur Fleischmann Museum The museum presents the life and work of the sculptor Arthur Fleischmann (1896-1990), born in Bratislava. His professional carrier developed in six countries of four continents. The permanent exhibition shows a preserved collection of ceramic works from his early period (1930s) as well as a selection of sculptures created after 1938. Among them there are particularly those sculptured in London, including works made of Perspex. An extensive photo documentation illustrates the life and artistic activities of this important personality. Biela St. 6

The National Cultural Monument - the Devin Castle This site settled already in prehistoric times, a part of the border defense system Limes Romanus, is located at the confluence of the rivers Danube and Morava. In 9th century Devin castle was an important Great Moravian fortress, seat of Prince Rastislav. During the 13th century the central and upper part of the castle were built, further adaptations date to the 2nd half of the 16th century. In 1809 the castle was destroyed by Napoleons army. In the castle area results of archaeological research are presented. A memorial tablet commemorates the historic excursion of the Slovak youth under the leadership of the patriot L. Stur in 1836.

Ancient Gerulata in Rusovce Foundations of buildings from the 2nd - 4th centuries. Gerulata is the former Roman military camp. Archaeological finds. Gerulatska St.69 <%googlsirkaokr%>
© Copyright 1998 - 2018, Panorama.sk
All rights reserved. Any publishing or further dissemination of press releases and photographs from resources of Panorama.sk without prior written approval by Panorama.sk constitues a violation of Copyright Act.
Partners of Panorama.sk sometimes place small data files called cookies on your device. By using Panorama.sk you agree to the placement of cookies on your device.