How to Get to Bratislava and Slovakia - Transportation Guide

Airport Bratislava
The airport is very close to the city. It may take only 30 minutes to get to the city center with local buses, trams or trolleybuses.
The timetable of local bus No. 61 from the airport terminal to Main railway station in Bratislava could be found here. Choose bus No. 61. If this link is broken, go to Bratislava's public transportation site - MHD and look for bus No. 61.
Airport Bratislava website: >>

If you want a cheaper taxi, try to call a taxi service by phone.
There are a plenty of choices for transport from Bratislava Airport to Vienna Airport (VIE) which is only 50 kilometers away (40 min).
Bus service provides among others the Slovak company Eurolines.sk (Slovak Lines)
Budapest is another international airport close to Slovak borders. Budapest is 170 km away from Banska Bystrica. Airport Krakow in Poland is also close to northern parts of Slovakia.
Railroad
Searching Slovak railroad connections.
Searching railroad connection from abroad to Bratislava - a page of German Railways - Deutche Bahn.
If you can not find information you need, call information board of Slovak railways in Bratislava: +421 24 48 58 188.
There is wide network of local railroad connections throughout Slovakia, but some of them were cancelled in the 2003. If you find the relatively low fare attractive, don't be surprised by the standard of traveling. However for the most part they are reliable and on time.
Quality of railway coaches differs - IC and EC are rather clean, other express and local may be dirty.
| | |
| --- | --- |
| | The main railway station in Bratislava is close to the city center - about 5 minutes by bus. |
| | Majority of railroad connections to Vienna starts at the Petrzalka railway station. |
Buses
The best starting point for searching a bus connection from abroad to Bratislava is a page of Eurolines - International lines timetable.
There is a wide network of international connections (from larger cities, e.g. Bratislava, Kosice, Banska Bystrica) and local connections throughout whole Slovakia.
On local connection you buy ticket from driver. When traveling from bigger stations - for instance Bratislava Bus Station (located at Mlynske Nivy) - you can buy the ticket together with seat reservation in the booking office, also in advance. Passengers with seat reservations are boarded first.

Main Bus Station Bratislava Mlynske Nivy was temporarily moved (October 1, 2017) to the nearby Bottova Ulic St.
>> Time tables of Slovak Lines.
>> Search for buses inside Slovakia.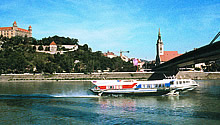 The Danube River Transport
The most beautiful way to get to Bratislava is by ship from Vienna. Bratislava River passenger terminal is right in the middle of the city in walking distance to the Old Town.

More information: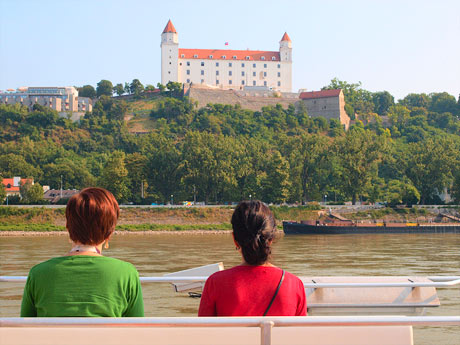 The Danube River Cruises, Bratislava - Vienna by a Boat
Local Public Transport in Bratislava
You can use buses, trolleybuses and trams. Tickets are available in machines at most stops.
Information for passengers - basic conditions for using a ticket by Public Transport Company Bratislava:
In the the Capital of the Slovak Republic Bratislava time tariff is applied in city public transportation. The time tariff is performance-related and is divided into time (tickets for one way with time validity of 15 and 60 minutes, SMS ticket 70 minutes, night transportation 90 minutes and tourist tickets) and zone (prepaid tickets) tariffs. The 15-minute ticket cannot be used for changing the means of transport; however, other tickets may be used for changing.
The passenger is obliged to buy a one-way ticket, combined ticket, ticket for a defined number of ways before entering the vehicle and immediately after the ticket must be marked in the nearest ticket marker. The ticket validity time also includes the time of drive interruption, i. e. waiting at the stop for the next connection. If during the drive the ticket time validity expires, the passenger must mark another ticket.
An unmarked ticket or a ticket marked in the wrong place is invalid.
The timetables placed at the public transportation stops contain the transportation time from the start to the target stop, as well as the tariff zone. This data is binding for checking the ticket validity by the ticket inspector.
Payment and/or extra charge for not presenting a valid travel document to the ticket inspector is EUR 70. If the passenger pays the fine directly in the public transporation vehicle to the ticket inspector in cash or within the following 5 working days at the ticket office of DPB, a. s. (Bratislava Transportation Company, Inc.), the amount is reduced to EUR 50.
Ticket inspectors badge holders of DPB, a. s. being identical with sample are exclusively entitled to check the tickets of passengers. Time validity is specified on this card. Upon request of the passenger the ticket inspector is obliged to present his DPB, a. s. certificate that contains a round seal and original signature of the authorised company employee.
After paying EUR 50 in cash the ticket inspector is obliged to hand over a fee (extra charge) payment confirmation to the passenger.
Note: On Saturdays, Sundays and public holidays the validity of a 60 minute-ticket is extended to 90 minutes.
For information regarding night lines see Public Transport Company Bratislava pages.
Driving By Car
Driving, rules, toll system, border crossings: >>

Car Parking in Bratislava
Bratislava inhabitants and visitors often have a headache from parking in the city center. To avoid troubles, choose public car parks or underground and surface parking garages. Parking guidance system can help you to find available free parking space.
One-hour parking cards for EUR 0.50, which require you to mark the time, are sold in the streets by automats. You have to use it in the city center during the day until 4 p.m.
Use car parks, parking garages or underground parking to avoid a wheel clamp or being towed. To retrieve a towed car you must contact the police (phone number 159 for the city police) and pay a fine and retrieval fee.
Taxi in Bratislava
It is much cheaper to call a taxi by phone, than just take a taxi from the street.
It is not required to leave taxi drivers a small tip.
Approximate price for the route from the airport to the city center is about 7 - 10 EUR. Ask first for the price and when a driver makes a proposal with higher price, order with different taxi company by phone.
UBER service started in Bratislava in August 2015.
Prices - charge per kilometer - from 0.55 to 1.00 EUR. Entrance fee about 1.50 EUR.
<%blava(lang)%>
Published: 2005-07-21
Updated: 2005-07-21
© Copyright 1998 - 2018, Panorama.sk
All rights reserved. Any publishing or further dissemination of press releases and photographs from resources of Panorama.sk without prior written approval by Panorama.sk constitues a violation of Copyright Act.
Partners of Panorama.sk sometimes place small data files called cookies on your device. By using Panorama.sk you agree to the placement of cookies on your device.