Deklaracia nesmrtelnosti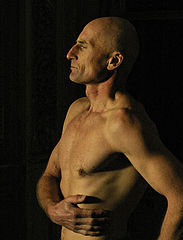 Deklaracia nesmrtelnosti je lezecka cesta, ktoru si vytvoril v Mamutej jaskyni pri Krakove horolezec Piotr Korczak. Ked cestu vytvoril, priblizovala sa svojou narocnostou k najtazsim na svete. Dnes ju uz Piotr (nar. v r. 1961) sam nedokaze preliezt. Ale mladsi lezci ano.
Deklaracia nesmrtelnosti je nazov kratkometrazneho filmoveho dokumentu, ktory odmenili cenou V4 na Festivale Hory a mesto 2012 v Bratislave. Odlisoval sa od väcsiny premietanych filmov, nebol len o sportovych vykonoch a radosti z nich, ale o tom, ako sa vyrovnat s tym, ked cas berie cloveku fyzicke sily.
V jednej z najsilnejsich scen filmu Piotr Korczak nelezie, ale tancuje svoju Deklaraciu nevyhnutnosti. Mozete si tento tanec pozriet v pripojenom videu.
Film rezisera a scenaristu Marcina Koszalku uz odmenili na viacerych festivaloch.

Your comment
© Copyright 1998 - 2018, Panorama.sk
All rights reserved. Any publishing or further dissemination of press releases and photographs from resources of Panorama.sk without prior written approval by Panorama.sk constitues a violation of Copyright Act.
Partners of Panorama.sk sometimes place small data files called cookies on your device. By using Panorama.sk you agree to the placement of cookies on your device.