Krasna Horka Castle

The castle shortly after fire. Picture by http://www.podsizalietat.sk.

The castle before fire. Picture by http://www.podsizalietat.sk.
The Krasna Horka Castle stands on top of the conspicuous denuded mountain, which dominates in the Roznavska Kotlina Basin. The Castle was set on fire in March 2012. Before the fire, the main attraction of the castle had been an embalmed body of Sophia Andrassy-Seredy lying in a chapel.

Construction of the Krasna Horka Castle was begun by the Bebek family, who were among the most powerful of the mediaeval nobility. The construction was continued by the Mariassy family (as temporary owners) and again by the Bebek family who governed here from the mid-13th century through until 1566. From the original guard tower the castle fortifications were built – the oldest, the Gothic core of the castle. A private army was maintained at the fortified castle. Following 1567 the castle, with its accompanying manor, passed into the ownership of the royal court and was administered by castle captains. In 1578 the first of the Andrassy family – Peter entered Krasna Horka as castle captain. Later in 1642, Peter's grandson Matej received the Krasna Horka Castle, together with its accompanying manor, from Ferdinand III into hereditary ownership. The Andrassy family gradually climbed their way up among the foremost noble families and maintained their political and economic position up until 1918, indeed economically until 1945. The Andrassy family continued to extend the castle and through many adjustments created from the Krasna Horka Castle a luxurious seat of the nobility.
The castle houses the exhibition of the Museum of Betliar, which illustrates the history and development of the castle, as well as the way of life of nobles in the past.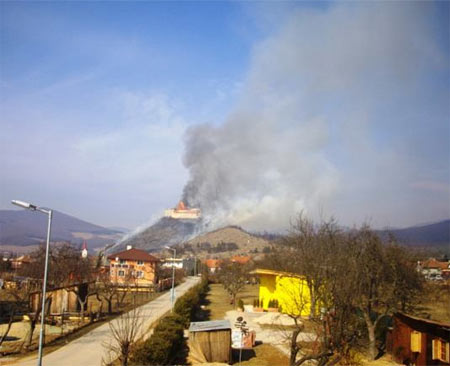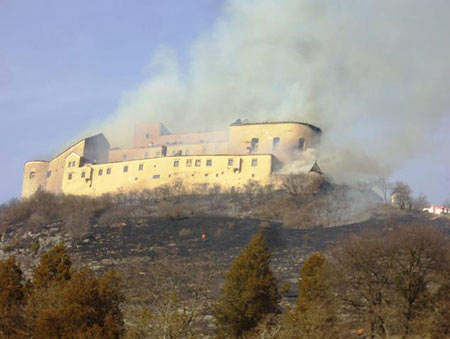 The Castle was damaged by fire on March 10, 2012. Pictures by www.hradkrasnahorka.sk.
More information:
Trip Tips to Bratislava and Surroundings
The mummy at the Krasna Horka Castle has not been destroyed by the fire
© Copyright 1998 - 2018, Panorama.sk
All rights reserved. Any publishing or further dissemination of press releases and photographs from resources of Panorama.sk without prior written approval by Panorama.sk constitues a violation of Copyright Act.
Partners of Panorama.sk sometimes place small data files called cookies on your device. By using Panorama.sk you agree to the placement of cookies on your device.