The Morava River Paddle Trips
Difficulty level: low. Rafting with or without instructor is possible. Rafting trips take one or more days and are suitable for beginners or families with children, or for older persons.
Main rafting points: Moravský svätý Ján - Gajary - Záhorská Ves - Vysoká pri Morave - Devínska Nová Ves - Devín.
Clients can use variety of boats, which are stable and well maintained. It is possible to connect 2 boats together into a catamaran, which provides safety and is also preferred by families with kids or even with pets.

Every participant is equipped with life vest. Participants must bring their own tents for trips, which are longer than 1 day.
Clients, who are not familiar with the Morava River, can use services of an experienced instructor.

Organizers deliver boats and equipment necessary for trips to a starting point. Transfer of participants is possible, too.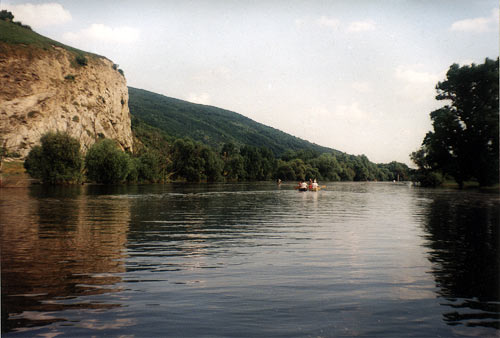 The Morava River below Sandberg in Bratislava area.
Cycling and canoeing
Participants can use cycles to get from Bratislava to Vysoka pri Morave village. Then they raft down the Morava River to Devin. We will transport theirs bicycles there.
Prices - paddle trips
1 person including transfer EUR 24 per day (A child with 2 adults free.)
Prices depend on number of persons, canoes.
June 12, 2012