Trip to the Sulovske Skaly Rocks
Conglomerate cliffs called Sulovske skaly present picturesque rock towns, which are situated only a several kilometers from the main highway connecting Povazska Bystrica and Zilina cities. Sulovske skaly are part of much bigger Sulovske vrchy hills and it is needed about 2 hours with a car to get to the foot of the Sulovske Vrchy hills from Bratislava by the D1 autoroute and by following highways.
At Sulovske skaly it is very easy to observe interesting landforms - rock towers, needles, and windows - walking around not very long (4 kilometers) instructive path. Among the most beautiful rocks is the Goticka brana (the Gothic Gate), the 13 meters tall rock window.
A walk around Sulovske skaly instructive path can not be easy for everybody. Expect 300 meters height distinction from the start of the path till the top of the rocks where ruins of the old Sulovsky hrad castle are situated. Deep waterless gorges are parts of the view from this wonderful path.
From the Sulovsky hrad castle ruins one can observe other parts of the Sulovske Vrchy hills, and green Sulovska dolina valley encircled by rocky mountain ridge. Herds of sheep in the valley deep below visitors of the Sulovske Skaly are really picturesque.
There are much more hiking paths in the Sulovske vrchy mountains. Neighboring Brada cliffs are among them.
The area of Sulovske Skaly is much more greener than it had been in the past. Austrian landscape painter Thomas Ender visited Upper Hungary (Horne Uhorsko) in 1861-1863. Grace to his watercolors depicting landscapes one can see there had been almost no trees around cliffs. And this is true not only for Sulovske Skaly area in today's Slovakia, former Upper Hungary (Uhorsko).
How to get there
Sulovske skaly are situated only several kilometers from the main highway connecting Povazska Bystrica and Bytca cities (16 km).
It is needed about 2 hours with a car to get to the Sulovske vrchy hills from Bratislava by the D1 autoroute. Distance from Bratislava to Povazska Bystrica is 167 km. The autoroute has not been finished yet. You have to take E50 highway shortly before Povazska Bystrica and in Predmier village (almost part of Bytca town) turn eastward to Jablonove village. Soon after Jablonove Sulovske skaly rocks begin (4 km). There is a paid parking.

More information:
Online Bratislava Guide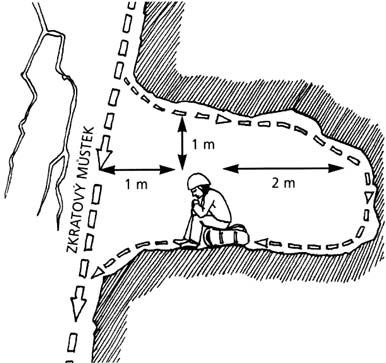 How to Survive a Storm in a Cave
Published: 2007-03-06
Updated: 2007-03-06
Panorama.sk - Contacts / About Us
© Copyright 1998 - 2019, Panorama.sk
All rights reserved. Any publishing or further dissemination of press releases and photographs from resources of Panorama.sk without prior written approval by Panorama.sk constitues a violation of Copyright Act.
Partners of Panorama.sk sometimes place small data files called cookies on your device. By using Panorama.sk you agree to the placement of cookies on your device.