Jelka Water Mill and Camp Sites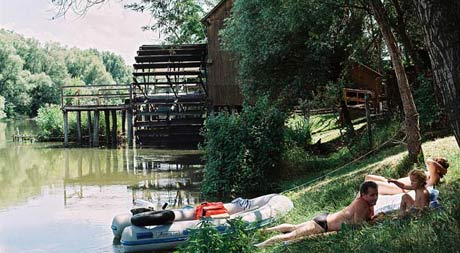 Where is better to have a water break in hot summer days in Bratislava? In still water in lakes and ponds around Bratislava or in swimming pools in the city? What about trying a streaming river water? We can flounder and even try to swim in the Small Danube (the Maly Dunaj River), close to the Jelka village. The site is interesting not only for its swimming and canoeing possibilities. There is an old water mill and a camping site. Camp is at the meadow. WC is available. It is lovely place - however it would be cleaner with more trash bins.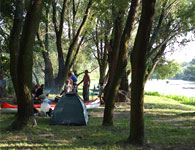 Ranch u Pala is one kilometer away from the Jelka Water Mill. There is a camp site and ranch with horses, pigs, cats... Horse riding is possible. Too many domestic animals. Not very comfortable for camping.

Some Basic Facts on Jelka
The municipality lies between Galanta and Bratislava at the bank of the Small Danube River. The first written memory comes from 1197. Among landmarks are notable the R.C. church (13th century), a chapel (18th century). Remarkable is an old tree sycamore, which is the highest and the oldest in the Slovakia, protected by law. Interesting technical monument - water pan mill - is standing at the bank of Little Danube creating a meander-type trench in the village cadastre in the length of 23 km with wonderful still-corners suitable for water tourism. The mill passed through reconstruction in 1993. Close to the mill there is an open-air museum aimed for agricultural history of the municipality.

How to get there from Bratislava

The most beautiful is a paddle trip.
With a car, there are two possibilities: From Vrakuna part of Bratislava via Most pri Bratislave, Malinovo, Tomasov, Zlate Klasy and Novy Zivot. (More than 20 kilometers). You have to turn right before the village Jelka. There is a small banner at the road where is written "Vodny mlyn."
The second possibility is via motor highway Bratislava - Senec. You have to ride across Senec and go via Kostolna pri Dunaji, Hruba Borsa to Jelka. The mill and camping site are behind the village - approximately 2 kilometers. You have to turn right in the village and take route via Bratislava. Then turn left.
More information:
Online Bratislava Guide
Petra - June 25, 2012:
It is not needed to book a camping site ner the water mill. Price is about EUR 1 per tent, phone number: 0908786921. (Free translation of Slovak input.)
Vlado, June 11, 2010:
Sorry, this may be true not only for Jelka camping near the water mill.
It is better to look for more private camping site, than the meadow near water meal in Jelka. It is true that camping site is not fenced and there are 2 restaurants next to camping. It is a public campsite, rather than camping.
Mira, June 9, 2010:
Hallo, do not recommend this place - Camp JELKA Vodny Mlyn.
We spent most horrible night of our life there. All night long disco until 5 am, dirty, noisy, ordinary aggressive young drunken locals, damaged our tents and stole things. Police refused to act... probably "interested" in sharing the profit with the people in charge who sell alc to people under age.
We refused to pay for the night. Nothing for water and nature lovers. Although it is in fact a wonderful place - what a pity!
Regards, Mira
Published: 2003-06-18
Updated: 2003-06-18
Categories: Trips, walks - Historical Technique