Lanoland at Koliba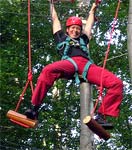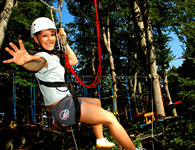 Lanoland is an area of high rope courses at Koliba in the Bratislava Forest Park. It is placed in crown of trees in a height of 3 – 8 meters above the ground.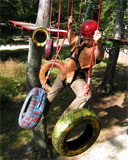 There are several elements:
Low element for children.
Blue Element with 16 obstacles, 4-6 meters above the ground - for children till 15 years.
Red Element with 24 obstacles, 6-10 meters above the ground - for adults
Black Element with 6 obstacles - for sportmen.
Team buiding courses are possible.
How to get there: Trolleybus No. 203 to the last stop, 15 minutes by walk from there.
Opening Hours: Weekends and Holidays, during Summer school leave in July and August 2010 daily.
Contacts:
mobile: (++421) 948 000 968 (from Slovak mobile call 0948 000 968)
E-mail: info@lanoland.sk
WWW: www.lanoland.sk
More information:
Online Bratislava Guide
Published: 2008-08-04
Updated: 2008-08-04