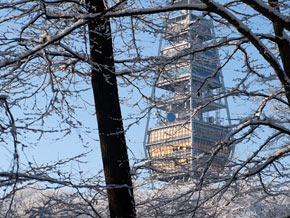 The chairlift connecting Bratislava's Zelezna Studnicka with the Koliba-Kamzik hill was re-opened in September 2005. The chairlift operates from 10 a.m. to 4 p.m. every hour on the hour in the months of October to April and 10 a.m. to 6 p.m. May to September. The lift covers 186 m in height in about 14 minutes, offering great views.
Tickets are on sale at both end-stations - 3 EUR one-way, and 4 EUR return ticket. Tickets for groups are discounted.
Current info at the www.lanovky.sk (in Slovak only).
How to get there

Kamzik hill is by most visitors accessed by trolley-bus line that can be taken downtown, just opposite the Presidential Palace (Grassalkovich Palace). At its last stop, called "Koliba", you have got an indefinite choice of hikes, short or long, throughout the Little Carpathians (Male Karpaty). Biker can use one of more or less steep gradients. The top-hill area is accessible also by private car, nevertheless especially during skiing weekends parking lots used to be overfilled.