The Maly Dunaj River below Vlky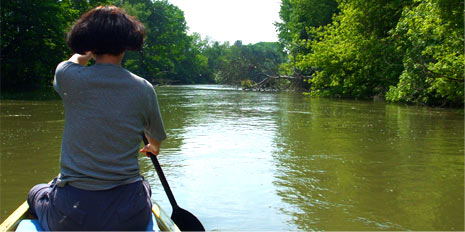 The Maly Dunaj River is a calm river and its current is not very fast, generally. But some parts of the river are a little faster and if your canoe hits a hidden limb or tree, your canoe can capsize easily. Just below Vlky you should be aware of such hidden dangers and try to sail in a middle of the river to be safe. <%mapikon 13,1035,1 %>
You may need from 3 up to 5 hours (with rests) to sail down from Vlky to Jelka - Ister Restaurant. Then you can paddle till Jelka Water Mill another 1.5 hour.
Vlado Bibel
© Copyright 1998 - 2018, Panorama.sk
All rights reserved. Any publishing or further dissemination of press releases and photographs from resources of Panorama.sk without prior written approval by Panorama.sk constitues a violation of Copyright Act.
Partners of Panorama.sk sometimes place small data files called cookies on your device. By using Panorama.sk you agree to the placement of cookies on your device.