Trip to the Molpir Hill: The Waterfall and the Celtic Settlement in the Small Carpathians Mountains

The waterfall in the Small Carpathians Mountains really exists only in the spring, when ice is melting. That is why the waterfall is called the Occasional Waterfall.
The occasional waterfall is located at the end of the Dolina Hlboca Valley, which begins just above the village Smolenice. Follow a blue-marked path, which is a part of the instructive path of Smolenicky Kras Karst. At the end of the valley is also a small cave known as a Christian pilgrimage site.

Continue along with the blue-marked path until the Luka Vlciaren Meadow. Then turn right and take yellow mark. To see the valley from a bird perspective you have to take no signed path on your right. Below on left side is the Molpir Hill.

The yellow mark shows the path to the Smolenice Castle. The important archeological site Molpir is nearby.

There are remains of the fortified Celtic settlement from the Hallstat period. Archaeologists have uncovered evidences of cannibalism there.
How to get to Smolenice and to Molpir
By car via route number 502: Bratislava - Pezinok -Casta - Smolenice, distance: 60 km, or you can use motorway Bratislava - Trnava – further via class 1 road number 51 Trnava - Trstin – Smolenice: distance 75 km.
The shortest route to the Molpir site begins at the church, the yellow mark shows the way.

Send a comment
More information:

Smolenice Castle

Driny Cave
Online Bratislava Guide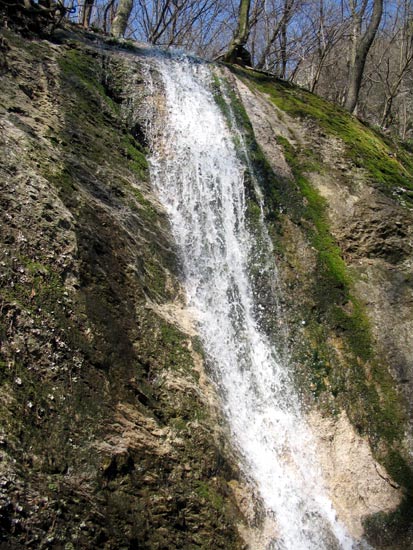 Occasional Waterfall in the Hlboca Valley
Komentáre k článku:
Najjednoduchšia cesta na Molpír
Pôjdete popri kostole vlavo k cintorinu, pri ktorom je prva turisticka tabula vrchu Molpir (na kopci). Odtial pôjdete len po zelenej znacke, po chodniku. Je uplne viditelny, neda sa kde zabludit!
5.9.2010
Dakujeme neznamemu prispievatelovi. Najjednoduchsiu cestu vyskusame pri najblizsom vylete na Molpir. (ib)
6.9.2010
Published: 2005-08-01
Updated: 2005-08-01
Categories: Trips, walks - Trips, walks - Bratislava and Surroundings