Which textbook of Slovak language do you need?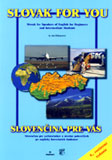 For self-learners - textbook with intermediary language:
Slovak for you - textbook, workbook with CD.
Colloquial Slovak - complete course for beginners with CDs.
For Slovak language classes and self-learners:
Textbooks Krizom krazom. Slovencina A1 - B2 with CD - include Slovak-English Contents, English instructions to exercises, usefull pictograms, English- Slovak glossary.
Sold out: Slovencina pre cudzincov - textbook, workbook, CDs - to help the self-learners, the introductory unit with the basic passwords, common abbreviations and symbols as well as whole content of the book is also in English.
For intensive Slovak language courses - textbooks and workbooks without intermediary language:
Slovencina ako cudzi jazyk - Hovorme spolu po slovensky A1, A2, B1, B2
Basic grammar and spelling guidebook